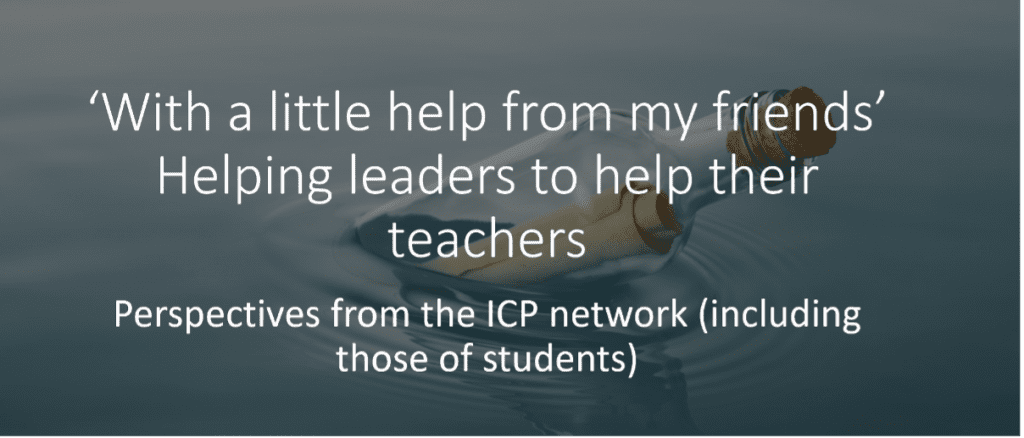 One of the real pleasures of my role as ICP President-Elect has been the opportunity to get to know some of the groups that we work closely with. One of these groups is the Atlantic Rim Collaboratory, which brings together countries and systems from across the world in order to learn from one another and share effective practice. The group regularly holds 'ThoughtMeets' which provide an opportunity to learn from a range of thought leaders and from one another. Recent sessions have focused upon topics as diverse as equity, inclusion, wellbeing and democracy- all themes that are close to the heart of ICP.
I was delighted to have the opportunity to contribute to a recent Arc ThoughtMeet which explored what teachers need in order to flourish. The session included short perspectives from teachers belonging to a wide range of different countries and a powerful keynote session from Lily Eskelsen Garcia, the former President of the largest education union in the USA. Whilst these contributions looked at the issue from the perspective of teachers, my brief was rather different. I was asked to draw on the expertise of the ICP network and to offer advice to the different systems represented on how they could help leaders to better support their teachers. Drawing on my Liverpudlian roots, I decided to call the session: 'With a Little Help From My Friends: Helping Leaders to Help their Teachers'.
Coincidentally, Lily entitled her session 'All You Need is Love', so Beatles imagery abounded throughout the two hours of the ThoughtMeet.
As well as asking for the views of several leaders within the ICP network, I also drew upon the ideas of pupils who were members of the teaching and learning group at my own school.
The first set of suggestions I received related to resources, focusing firstly upon the importance of teacher supply:
'Government needs to focus more upon teacher recruitment & retention -especially in hard-to-staff areas such as outback Australia' (Australian Leader)
Colleagues also highlighted the need to support teachers in the early stages of their development:
'We need to support new teachers- here Mentoring for Newly Qualified School Leaders is provided on a one on one basis for the first year of appointment by trained mentors and this has helped with teacher retention' (Irish Leader)
Professional development throughout a teacher's career was also seen as important:
'We need access to high quality approved Leadership Courses for teachers/aspiring leaders and existing leaders to enhance professional development opportunities' (European Principal)
Some of the most direct comments about the need to support teachers with the appropriate resources came from students:
'Governments should ensure that teachers are properly equipped with modern and innovative resources that reflect our current society. The pandemic has already highlighted the role of digital solutions in education' (17-Year-old Pupil)
I also could not resist including this suggestion (I promise I did not put this idea into the head of the pupil concerned) which was then echoed by a Chinese colleague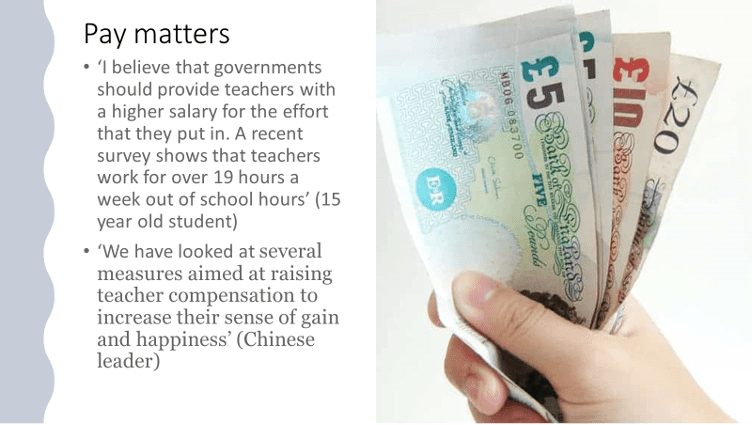 After Resourcing, the second major theme that emerged was Wellbeing. As one colleague commented:
'For school leaders the administrative workload is overwhelming…. the constant compliance issues…tick boxes, etc (South African leader)
I was also very struck by this comment from an Australian colleague:
'Greater consideration is needed for leaders well-being…I was with a Principal the other day that said that she has not had an uninterrupted day while on holidays for 5 years – always things that has to be done, questions to answer, teachers to find' As well as Resourcing and Wellbeing, a final set of suggestions related to the policy decisions made by governments. One the central suggestions was that there needs to be greater consistency, so that teachers and leaders are aware of what they are aiming for and can work towards it over a period of time: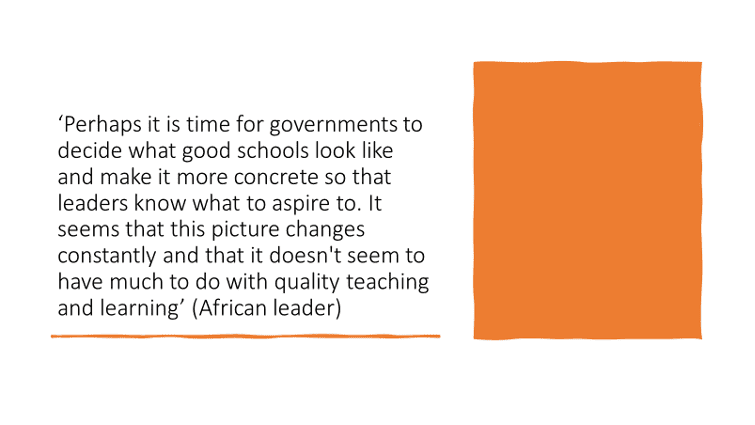 Linked to this was a suggestion that policy makers needed to have greater trust in both teachers and leaders. The Pandemic has made this a necessity over the past 18 months and it would be a terrible shame if we want back to what existed before. Hence the advice was to:
'Trust the judgement of teachers and leaders rather than having to deal with excessive compliance/accountability' (Australian leader) This in turn led on to a final very important suggestion, that for teachers and leaders to flourish we need greater equity in our systems: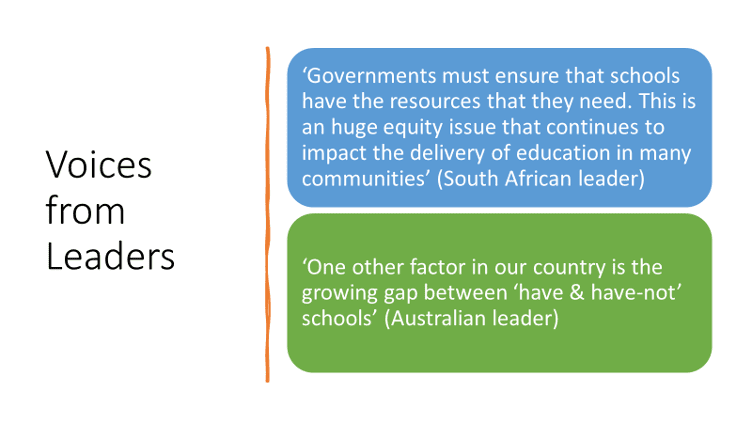 I particularly enjoyed the way in which Arc Chair, Professor Andy Hargreaves, picked up on the Beatles theme to produce a final summary which drew heavily upon song titles written by the Fab Four (including the need for there to be a 'Revolution' in our thinking about education). One of the things that struck Andy, and all of us involved in the ThoughtMeet, was the consistent message that what teachers need in order to flourish are fundamental elements such as trust, hope and love. As well as coming away from the meeting singing several of the Beatles greatest hits, I found myself reflecting that all of us in education are in the end motivated by these simple, but profound values and that they are often where we find our greatest fulfilment, whether we be a teacher or a leader.